Indian Garden
Al Fresco Dining at Spice Merchant Beaconsfield
Beaconsfield boasts a large and immaculately kept Indian garden, which is perfect for summer dining with a difference. With a dedicated area for cooking al fresco and three separate seating areas with enough space to accommodate 140 people, Beaconsfield's garden offers a romantic setting for couples and an ideal venue for hosting parties and celebrations.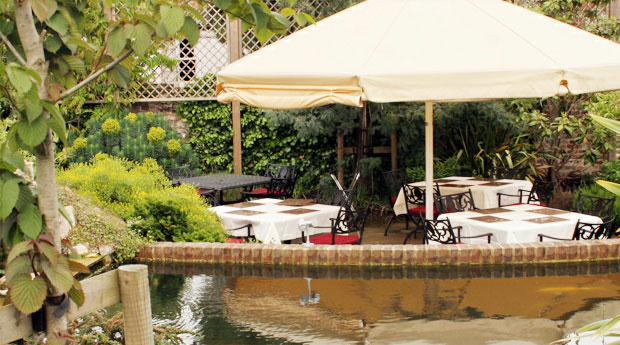 The garden comes complete with finishing touches such as a peaceful waterfall, oriental plants and a large pond, which even has a bridge you can walk over. For maximum comfort when eating and relaxing in the garden, there are plenty of heaters, large parasols on every table and cushions on every seat.
Beaconsfield's restaurant and conservatory also face the garden, ensuring you have a beautiful and tranquil view regardless of whether you dine inside or out.
To reserve a table in the garden or book a private function please call 01494 675 474.